Finalist for the 2022 Prix de la Relève scientifique: Julie Hlavacek-Larrondo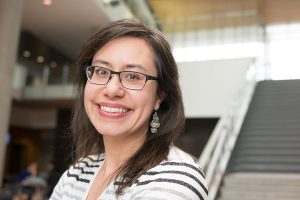 Associate Professor in the Department of Physics Julie Hlavacek-Larrondo is one of two finalists for the Prix de la Relève scientifique. This is a second nomination for the researcher, following her 2019 nomination.
Julie Hlavacek-Larrondo specializes in the study of supermassive black holes and their role in the formation and evolution of galaxies. During her career, which began at UdeM in 2013, she has been able to use some of the largest telescopes in the world, including the Very Large Array, Chandra X-ray Observatory, Hubble as well as those at the Gemini Observatory. The data she obtained allowed her to publish several articles that have had a significant impact on her discipline, including those on the supermassive black hole M87. She was responsible for the first image of a black hole ever collected.
Director of the Canadian Astronomical Society, she has held the Canada Research Chair in Observational Black Hole Astrophysics since 2014. Her work has been recognized on several occasions. Most notably, she was an Einstein Postdoctoral Fellow during her studies at Stanford University, USA. She was inducted into the Royal Society of Canada in 2018, becoming a Fellow of the College of New Scholars and Creators in Art and Science.
A strong believer in women's place in traditionally male fields, she co-founded Parité sciences, which aims to increase female enrollment in university computer science, mathematics and physics programs.
About the Prix de la Relève scientifique
The Prix Relève scientifique du Québec is awarded to a person 40 years of age or younger who has distinguished themself by the excellence of their research work and who has demonstrated the ability to establish and maintain constructive and lasting ties with the research community. All disciplines are recognized for this award. Each year one recipient and two finalists are selected.
Source:
Université de Montréal