Vicky Kaspi wins Gerhard Herzberg Gold Medal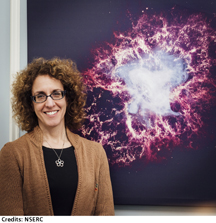 The Natural Sciences and Engineering Research Council of Canada (NSERC) has named McGill University astrophysicist Vicky Kaspi as this year's recipient of the Gerhard Herzberg Canada Gold Medal for Science and Engineering, NSERC's highest honour, in recognition of the excellence and influence of her research contributions. Prof. Kaspi is the first woman and one of the youngest researchers to ever win the Herzberg Canada Gold Medal.
With major discoveries throughout her career in the study of rapidly spinning compact neutron stars called pulsars, Kaspi has a long list of recognitions and awards to her name, including: the 2015 Canada Council Killam Prize, election as Member of the American Academy of Arts and Sciences, the US Annie Jump Cannon Award, the Rutherford Medal from the Royal Society of Canada, and the Prix Marie-Victorin, Quebec's highest honour for scientists. She holds a Canada Research Chair and the Lorne Trottier Chair in Astrophysics and Cosmology at McGill, where she is also the Director of the McGill Space Institute.
The Herzberg award includes a grant of up to $1 million, distributed over five years, to use for personal university-based research or to direct in some related way, such as the establishment of research Chairs in the winner's name at Canadian universities.
"Being awarded the Herzberg medal is a tremendous honour and thrill," said Prof. Kaspi. "The funds provided as part of this award will be used in training the next generation of scientists in state-of-the art astrophysics research and, for example, in high performance computing and management of big data as part of the upcoming new Canadian CHIME radio telescope and its quest to understand the origin of the mysterious phenomenon of Fast Radio Bursts."
It is with great pride that the CRAQ congratulates Professor Victoria Kaspi for winning this prestigious award.
Source:
Chris Chipello
Media Relations Office – McGill
christopher.chipello@mcgill.ca | 514-398-4201