Professor Daryl Haggard and her team are in the 2018 top 10 discoveries of Quebec Science.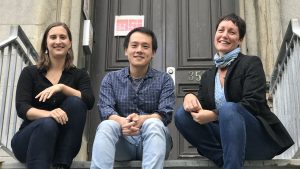 The study of a team from McGill University, on the aftermath of a cosmic smash-up that shook the universe, was selected in Québec Science magazine's annual list of the top 10 scientific discoveries in Quebec. The research led by Professor Daryl Haggard and postdoctoral researchers John Ruan and Melania Nynka, all members of the CRAQ, shows that the afterglow from the distant neutron-star merger detected in August 2017 continued to brighten – much to the surprise of astrophysicists studying the aftermath of the massive collision that took place about 138 million light years away and sent gravitational waves rippling through the universe.
More details about this discovery are available here: Neutron-star merger yields new puzzle for astrophysicists.
Their research was the subject of a paper entitled « Brightening X-ray Emission from GW170817/GRB170817A: Further Evidence for an Outflow », published in the January 18, 2018 issue of the Astrophysical Journal Letters.
The public is now invited to vote for the discovery of the year among the selections of the magazine on the Québec Science website: https://www.quebecscience.qc.ca/sciences/les-10-decouvertes-de-2018/quand-deux-etoiles-neutrons-fusionnent/
The CRAQ warmly congratulates Daryl, Melania and John for their selection in this list.
Source:
Robert Lamontagne
Responsable des relations avec les médias
Centre de recherche en astrophysique du Québec
438-495-3482
lamont@astro.umontreal.ca
and
Chris Chipello
Relations avec les médias
christopher.chipello@mcgill.ca
514-398-4201